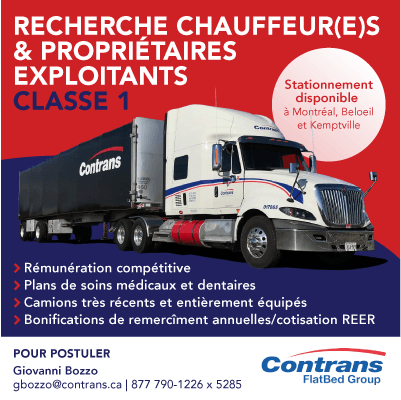 The conduct review policies that apply to heavy vehicle owners and operators and to heavy vehicle drivers were developed in order to meet the...
Have you seen on display last October at the American Trucking Associations Management Conference and Exhibition (MCE) in San Diego, the spectacular Peterbilt's new...
At the age of 9 Wylliam was an angry child who already wanted to commit suicide, being bullied. Can we really blame children when...
No US state or Canadian province has taken the automotive and trucking industry further in adopting electric vehicles than California. However, the state recently...
While the obligation to wear a mask has aroused strong reactions in many people around North America, for Pierre Bernier it has become obvious...
Finding a good partner can be difficult for truckers who spend a lot of time on the road. Although for some people freedom and...
Food trucks are becoming more and more popular in the recent years, thus attracting more companies to try and adapt new technologies and find...
Tesla Inc. overtook Toyota Motor Corp. as a higher value company on Wednesday July 1st when the 650,000 pre-orders of its Cybertruck exceeded deliveries...
While several provinces and states have imposed containment measures to combat the Covid-19 outbreak, peak hours have dropped dramatically and traffic has become smoother....
As tensions over a police-involved death continue to escalate, authorities are urging protesters to refrain from violence and asking people to avoid 'retail areas.' On...
The shortage of professional truck drivers in the Canadian for-hire trucking industry is escalating more rapidly than industry analysts previously thought, according to a...
Tomorrow between 7 a.m. and 7 p.m., the work of truckers will be recognized by other major players in the Quebec trucking industry! Burrowes...
From March 16 to May 8, there has been a significant drop in commercial transportation activity in both the U.S. and Canada when baselined...
The municipality of Notre-Dame-du-Nord, in Abitibi-Témiscamingue, will host the 38th edition of the Rodéo du camion, from August 2 to 5, 2018. This is...
September 30, 2016 (Little Rock, AR) – Maverick Transportation LLC, an Arkansas-based carrier, announced a pay increase coming Oct. 2 for over-the-road drivers in...
TruckPro is proud to announce the extension of its warranty program, now available throughout North America! A Canadian first for a network of heavy vehicle...
Nissan Canada's price on the new, top-of-the-line Titan pickup truck represents a substantial discount from the cost to the United States buyers when the...
A truck driver was stabbed multiple times by two strangers Wednesday afternoon in East Vancouver, police say. Vancouver police say the incident happened just before...
TORONTO - An insurance industry association says pickup trucks represent are the hottest vehicle for thieves. The Insurance Bureau of Canada says the Ford F-350...
The Trans-Canada Highway has been reopened in Kamloops, after two people were injured in a truck fire on Friday morning. The fire broke out after...
"Welcome to My Cab" is an online video series we started to highlight the most spectacular and customized trucks on the planet. We've done...
Four people were injured and a man is facing charges after a truck crashed Wednesday into a convenience store in north Edmonton. The incident happened at 118th Avenue...
An unidentified driver of a tractor-trailer was killed Tuesday night on the Pennsylvania Turnpike near mile marker 302 in Morgantown. The vehicle caught fire...
TORONTO, Ont. – It seems like the trucking industry has tapped every possible underrepresented demographic of late to deal with the driver shortage. The...
Manitou is confirming its dynamism in the truck-mounted forklifts section by participating in the Solutrans exhibition at Lyon Manitou has a complete range of truck-mounted...
Coteau-du-Lac (Quebec, CAN) – November 13, 2015 – Representatives from C.A.T., U.S. Venture Gain Fuel Canada, and Gaz Métro, along with local and regional dignitaries,...
Dedicated Ride Trucking Peterbilt 379 and spread-axle reefer is seen at the Truckin' For Kids Truck Show in Irwindale, California on Saturday October 4th,...
Kenworth T680 76-inch Mid-Roof Sleeper Transporting Tree on Special 3,000 Mile Journey The 2015 U.S. Capitol Christmas Tree made its first tour stop in the...

Truck Stop Canada will be the World's next Canadian Trucking source of Information and news related to Canadian Trucking Industry.
If you want to list yourself in Canadian Trucking Directory please visit here.
We are launching soon! Please use Contact Us if you are advertiser.
[wp_rss_multi_importer category="1″]
[sc:image link="http://dummyimage.com/246×700/000/ffffff.jpg&text=Advertise+here" url="#"]
[sc:image link="http://dummyimage.com/246×700/000/ffffff.jpg&text=Advertise+here" url="#"]