Truck Stop Canada will be the World's next Canadian Trucking source of Information and news related to Canadian Trucking Industry.
If you want to list yourself in Canadian Trucking Directory please visit here.
We are launching soon! Please use Contact Us if you are advertiser.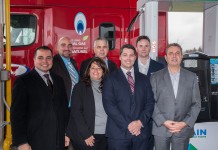 Coteau-du-Lac (Quebec, CAN) – November 13, 2015 – Representatives from C.A.T., U.S. Venture Gain Fuel Canada, and Gaz Métro, along with local and regional dignitaries,...
Dedicated Ride Trucking Peterbilt 379 and spread-axle reefer is seen at the Truckin' For Kids Truck Show in Irwindale, California on Saturday October 4th,...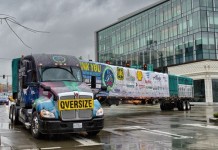 Kenworth T680 76-inch Mid-Roof Sleeper Transporting Tree on Special 3,000 Mile Journey The 2015 U.S. Capitol Christmas Tree made its first tour stop in the...
Latest Videos
In this video you see the european trucks leaving the mackdag truckshow. (5) The post European trucks, Mackdag 2014 truckshow, Holland appeared first on Truck Stop Videos.
[...]
Wed, Mar 22, 2017
Source: TruckStopVideos
Barriers had a malfunction and didn't close while truck was crossing train tracks. North Salt Lake police have released dashboard camera video (above) showing the moment a Utah Transit Authority FrontRunner train crashed into a FedEx truck Saturday morning. According to UTA, a preliminary investigation shows the crossing gates were up
[...]
Mon, Mar 20, 2017
Source: TruckStopVideos
(9) The post Truck Driving Fails 2017 appeared first on Truck Stop Videos.
[...]
Sun, Mar 19, 2017
Source: TruckStopVideos