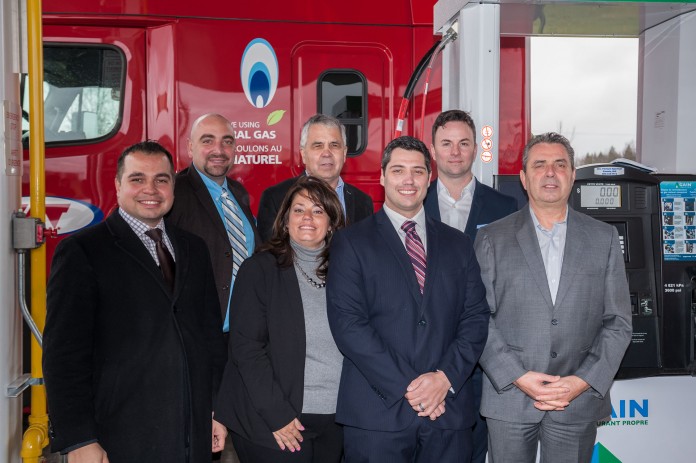 Coteau-du-Lac (Quebec, CAN) – November 13, 2015 – Representatives from C.A.T., U.S. Venture Gain Fuel Canada, and Gaz Métro, along with local and regional dignitaries, celebrated the grand opening of the first GAIN Clean Fuel compressed natural gas (CNG) public station in Quebec.  The GAIN station, located at 4 Transport Street in the industrial park of Coteau-du-Lac, will provide the North American carrier with alternative fuel to support C.A.T.'s growing fleet of CNG trucks.
"The fight against climate change pushes us to innovate and rethink the way things were done in various sectors, including the transportation sector which emits close to 45% of total greenhouse gas emissions in Quebec. The Government supports Quebec businesses in their transition into this carbon constrained world. The Ecocamionnage program gives businesses the necessary leverage to contribute, in their own way, to reducing their GHG emissions, and thus, take steps toward more sustainable practices" concludes Mr. Robert Poëti, Quebec Minister of Transport.
"I appreciate the efforts of the Canadian trucking industry to be environmentally responsible", said Marc Garneau, Minister of Transport. "Our transportation system is one of the largest sources of greenhouse gas emissions in Canada, so investments in energy efficiency and more efficient fuels not only help to save money but will also improve the environment for Canadians."
"We're proud to be a leader in the industry in utilizing CNG to reduce emissions," said C.A.T. Inc. President Daniel Goyette. "We've made an investment in our future with the conversion of more than 100 trucks to CNG. It's been a very positive move by reducing our greenhouse gas emissions and creating fuel price stability. We couldn't be happier with our partnership to make this facility a reality." Nearly a third of C.A.T.'s fleet of 350 tractors operates on CNG. The partnership involves U.S. Venture Gain Fuel Canada – which owns the GAIN Clean Fuel brand and builds and operates the station, and Gaz Métro – the supplier of natural gas to the facility.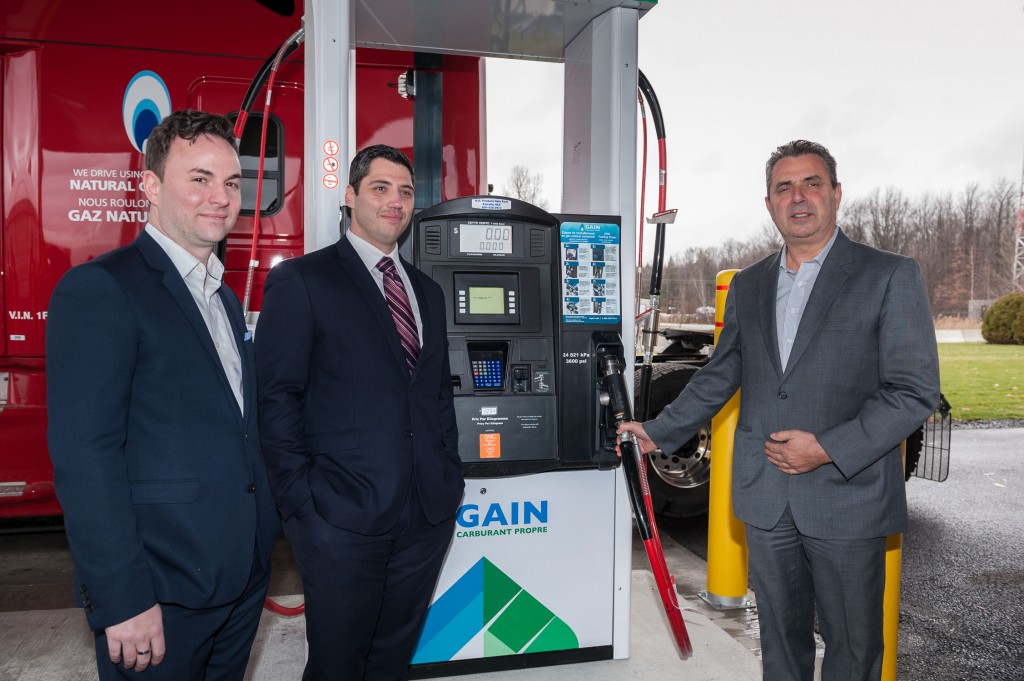 "We're excited for the opening of the first GAIN Clean Fuel station in Quebec," said David Vincent, Director, Business Development and Renewable Energies at Gaz Métro.
It's great to see C.A.T. take a leadership role in helping to get this station built. They have definitely embraced alternative energy and we hope that other carriers follow C.A.T.'s lead and take advantage of the many benefits CNG offers.
This is the second of five GAIN Clean Fuel station locations to open in partnership with C.A.T. The first station opened in Mississauga, Ontario on October 26, 2015. The other three stations locations include Laredo, Texas; Charlotte, North Carolina and Scranton, Pennsylvania. These stations are finishing up on construction and will be opening soon. U.S. Venture GAIN Clean Fuel Canada is continuing to seek new partnerships to locate GAIN Clean Fuel CNG stations in Canada and the United States.
"We're thrilled to have our second location in Canada open for business," said GAIN Clean Fuel Business Development Manager, Marc-André Paquin. "This is one of the most heavily traveled trucking corridors in all of North America (A-20/H-401) and we look forward to serving not only C.A.T., but other carriers seeking to take advantage of the benefits. We hope this station will encourage other U.S. based carriers to seek new opportunities in Canada."
The Coteau-du-Lac location, like all other GAIN Clean Fuel stations, will provide easy-access, fast-fill capabilities and will be open for use by other fleets and the general public. They will also have fleet card acceptance capabilities for trucker convenience and provide reliability to ensure that fleets have a consistent fuel source.
A complete list of GAIN Clean Fuel stations can be found at www.gainfuel.com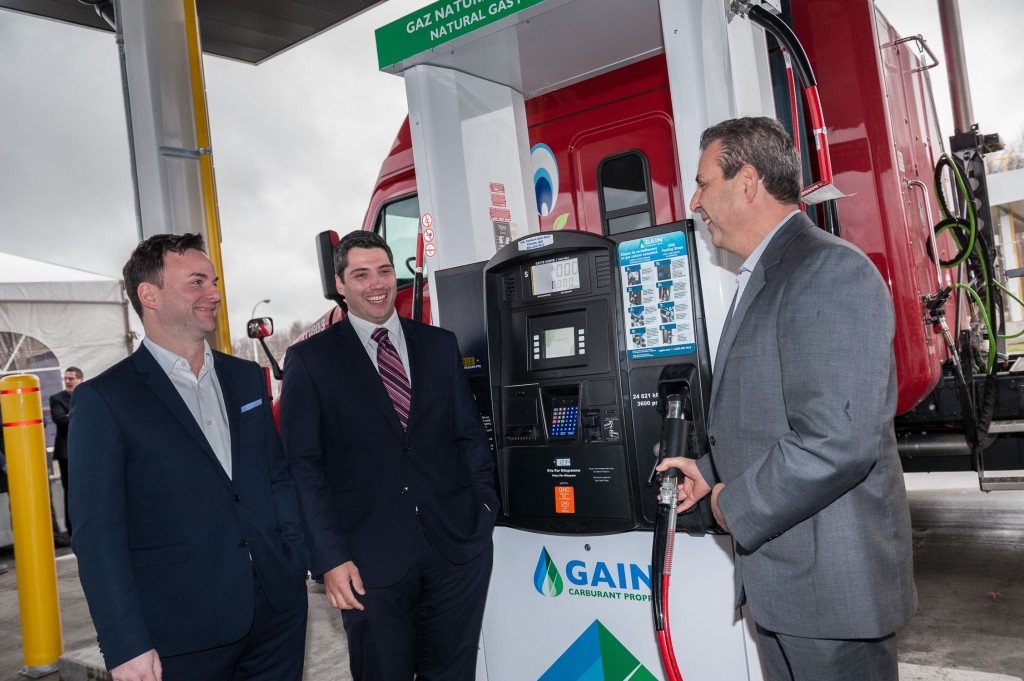 About U.S. Venture Gain Fuel Canada, ULC
For over 60 years, U.S. Venture has been recognized as an innovative leader in the distribution of petroleum and renewable energy products, lubricants, and tires and parts for the automotive aftermarket. Guided by its company vision, "To be the very best value-adding distributor of products that vehicles consume in North America," they deliver unconventional, creative solutions that give their customers a competitive edge.  Headquartered in Appleton, Wisconsin, the company's business divisions are U.S. Oil, U.S. AutoForce®, U.S. Lubricants and U.S. Gain/GAIN clean Fuel.
About C.A.T. Inc.
C.A.T. Inc. was founded in 1978 and offers a blend of transportation, and logistics services. Their core market is truckload service between Canada and the USA and are one of a handful of carriers serving the Mexico market on a regular basis. For more information visit their website at www.cat.ca
About Gaz Métro
With more than $7 billion in assets, Gaz Métro is a leading energy provider. It is the largest natural gas distribution company in Quebec, where its network of over 10,000 km of underground pipelines serves more than 300 municipalities and more than 197,000 customers. Gaz Métro is also present in Vermont, producing electricity and distributing electricity and natural gas to meet the needs of more than 310,000 customers. Gaz Métro is actively involved in the development and operation of innovative, promising energy projects, including natural gas as fuel and liquefied natural gas as a replacement for higher emission-producing energies, the production of wind power, and the development of biomethane. Gaz Métro is a major energy sector player that takes the lead in responding to the needs of its customers, regions and municipalities, local organizations and communities while also satisfying the expectations of its Partners (Gaz Métro inc. and Valener) and employees.