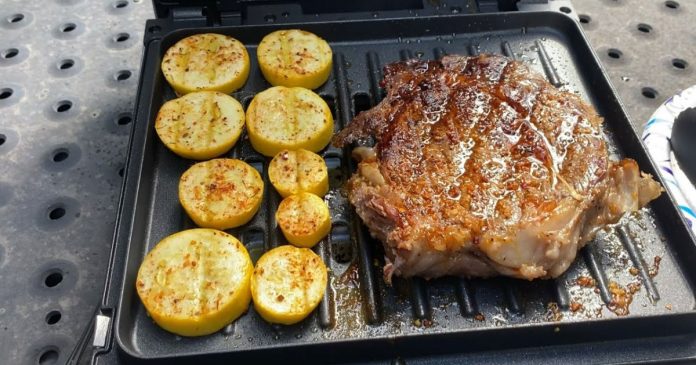 Come on now, there isn't anything much better than some barbecue in the summertime (any time is good for barbecue!), and just because you're a truck driver doesn't mean you have to stop enjoying and cooking a good barbecue meal while you're off duty.
You can cook basic meals or make your meal as gourmet as you like! I love a good steak with a baked potato and a side salad. Also, there is nothing wrong with a juicy hamburger with all your favorite toppings. I can almost smell it now!
Truck Stop Canada (TSC) wants to know if you enjoy barbecuing during your off time while driving. Do you barbecue on the road? What is your favorite meal to make? Let us know!
Favorite meal?
A) Breakfast
B) Brunch
C) Lunch
D) Dinner
E) Anytime you get a chance!
Favorite Protein?
A) Chicken
B) Steak
C) Burgers
D) Fish or Seafood
E) Pork
F) Vegetarian
Favorite Sides?
A) Salad (All the Greens)
B) Salad (Potato, Coleslaw, Macaroni)
C) Veggies (Fresh, Cooked on the Barbecue)
D) Potatoes, Rice, or Pasta (All are possible)
E) Healthier Side (Quinoa or Couscous)
Where do you get your ingredients,
A) Bring it from home
B) Pick it up during a stop or downtime?
Let us know in the comments!
With the cost of groceries on a steady rise and many people trying to make healthier choices and making their own meals Bar-B-Queuing is a great idea.
Barbecuing is an excellent way to enjoy a delicious meal while also saving money in the long run, especially with the cost of groceries continuing to rise. Many people are also trying to make healthier choices by preparing their own meals, and barbecuing is a fantastic option for doing so. Whether you're a truck driver on the go or simply looking for a fun summertime activity, barbecuing is a versatile and enjoyable way to create a variety of meals. From juicy burgers to delicious steaks, the possibilities are endless. So why not fire up the grill and start cooking up your favorite meals today?