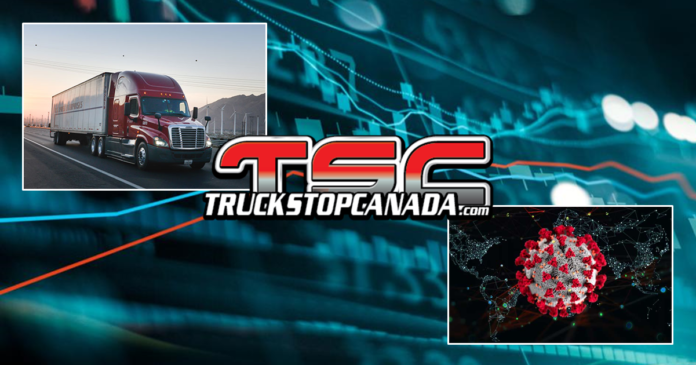 From March 16 to May 8, there has been a significant drop in commercial transportation activity in both the U.S. and Canada when baselined against data from the previous two weeks. On average, Canada is operating at 79% of normal commercial transportation activity, with the Maritimes operating at 70% (the lowest percentage compared to normal.)
In the U.S., the impact is more significant, operating at an average of 83% of normal commercial transportation activity and the U.S. Federal region, such as the State of New York and New Jersey, are the most impacted at 66% of normal activity.
Looking at the North American trend, commercial transportation activity is quite similar to what we're seeing above. However, there is a noteworthy difference in the decline of commercial vehicle activity between Heavy-Duty trucks at 87% of the normal activity and cars at 66% of the normal activity, baselined against data from February 1 to March 15, 2020.
The dataset suggests that all retail, industrial and commercial locations have been impacted by the drop in commercial transportation activity. However, it is somewhat encouraging to note that commercial transportation activity to grocery stores has dropped the least, with 92% of normal activity, delivering goods but other services as well.
On the other side, both total volumes and reefer volumes out of California have surged over 30% in the past month. OTVI.CA (the Outbound Tender Volume Index – SONAR's proprietary index of daily accepted full truckload tender volumes) is now at precrisis surge levels, which is remarkable. However, the volume surge that has occurred on a national level is too significant to have come from just one market and upward momentum is broad.
A few weeks back, the automotive industry seemed to represent a promising source of pent-up volumes once its factories came back online. The Michigan (OTVI.MI) and Ohio (OTVI.OH) outbound tender volumes have not risen as rapidly as the national average. However, inbound volumes to both Ohio and Michigan have been rising rapidly. This may translate into much-needed outbound volumes from the two states.
This time of the year, we should expect to see a produce bump, but total volumes are rising faster than reefer is currently. That said, traditional produce markets in southwertern U.S.A. have exhibited the largest monthly changes in volumes (Tucson, Phoenix). The rapidly improving consumer spending data is also playing a role in this surge. The reopening of most states is unleashing the pent-up demand from Americans and Canadians who have grown tired of being on house arrest. How long the surge can last remains to be seen.
As the coronavirus pandemic continues and the July 1 start date for the United States-Mexico-Canada Agreement (USMCA) nears, logistics experts weighed in on how to strategize for the future, during a recent webinar.
"The Impacts of COVID-19 on the United States, Mexico, and Canada Cross-border movements" webinar was presented by the Transportation Intermediaries Association on Thursday.
Jessie Essman, chief operating officer for Chicago-based Forager, said Mexico's location next door to the U.S. makes it attractive as a growing trade partner.
« For some time now, supply chains have been reevaluating the concept of nearshoring versus offshoring. Wages are rising in China, and we've seen that offshoring can really lead to supply chain inflexibility », Essman said.
Unlike China, there are also no current tariffs hampering U.S.-Mexico trade, Essman said.
Carlos Sesma, a transportation and logistics lawyer in the Mexico City-based law firm Sesma and McNeese, said the economies of Mexico, Canada and the U.S. will eventually rebound.
« Sadly, some companies will fold that will not be able to adapt and they will fail », Sesma said. « These companies will present certain challenges for us when we're dealing with clients, as well as certain opportunities when the business landscape begins opening up. »