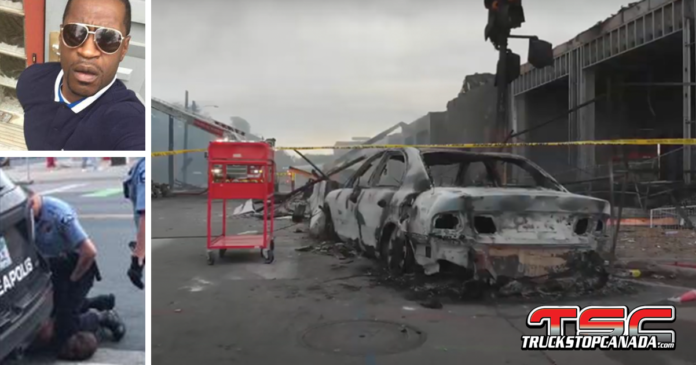 As tensions over a police-involved death continue to escalate, authorities are urging protesters to refrain from violence and asking people to avoid 'retail areas.'
On Wednesday and Thursday, violent protests broke out in Minneapolis and St. Paul following the death of George Floyd.
During his arrest, Floyd, 46, was held by the knee of a Minneapolis police officer. A video shows Floyd pleading that he is suffering and cannot breathe. Then his eyes closed and the calls stopped. He was pronounced dead soon after.
The officer and three others involved in the incident have been dismissed, but his family members want to see the officers charged with murder.
The FBI is investigating and said it will present its findings to the US Attorney's Office for the District of Minnesota for consideration of possible federal charges.
The Major Cities Chiefs Association, an organization of police executives representing the largest cities in the US and Canada, released a statement Wednesday calling the actions of the officers involved in Floyd's death "inconsistent with the training and protocols of our profession."
Floyd moved to Minnesota to work and drive trucks, according to friend and former NBA player Stephen Jackson.
The video of Floyd's death went viral and sparked outrage at police brutality. Since then, protesters have clashed with the police on the streets, started numerous fires, and looted businesses.
Minnesota Governor Tim Walz called Wednesday's activities in Minneapolis "extremely dangerous" and asked people to avoid the area.
On Thursday afternoon, the riots escalated to the point that Maplewood police urged people to avoid "retail areas", considering these areas at high risk of looting.
According to social media, objects are being thrown from Bridges in Minneapolis as part of the protest.
Walz called the National Guard on Thursday afternoon to respond to the riots.
Truckers who need to deliver or pick up in the area should call ahead to make sure the business is open or consider delaying until the situation is more secure.